Moms Matter!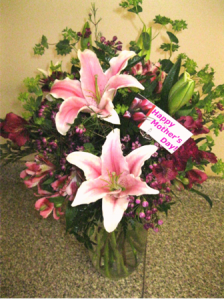 Mothers do so much for us; they give us life, they deal with our emotional adolescence, they guide us with wisdom in our adulthood, and stay by our side when it feels like the world is against us.
But Mother's day is not just for the women who brough us into the world; its for any special person in your life that amplifies  feelings of acceptance, nurturing, support, and love.
This reminded me of a dear customer, a middle aged man wanted a beautiful bouquet for his wife. Naturally I assumed that an anniversary or birthday fell upon the busy weekend of Mother's Day.
After some light conversation I asked, "Whats the occasion?"
I was pleasantly surprised when the man went on to tell me that the flowers were for his wife for Mother's Day. He wanted to thank her for being an amazing, and selfless mother to their two daughters.
That is the true beauty of this day; we are able to show our appreciation for not only mothers, but for grandmothers, step-moms, mother-in-laws, wives, or that individual we call our 'second mom'.
So treat her today! Come in for a georgeous bouquet, arrangement, planter basket or gift to make her feel as special as she is.