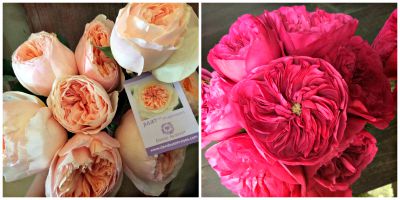 Brides love the fullness of peonies and other flowers that are seasonal and not always available at certain times of the year.  These amazing roses are hybrids and have been created to make a masterpiece of the wedding floral bouquet.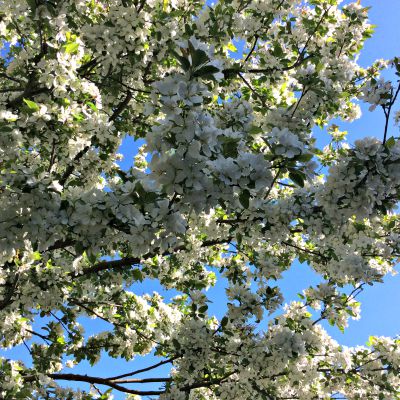 People often ask how we came up with the name for our flower shops. When we opened in 1983 the apple blossom was recently named the official flower of the Municipality of Clarington and we chose to name our flower shop after that. Apple blossoms can be seen in the spring throughout our agricultural municipality which thrives on the apple growing industry. This is a picture of a golden crab apple tree in bloom in my backyard. Over the summer tiny crab apples develop and they continue to ripen in fall but will remain on the tree over winter. It is a joy to see the cedar waxwings devouring the fruit in the spring when food sources are scarce.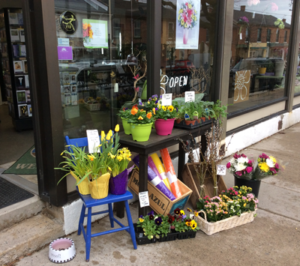 Finally spring has sprung and so have all the bees who are hungry for nectar.
Pansies, daffodils, tulips, hyacinths, primula,  fresh herbs, with this fine weather we are able to display lovely living plants outside in front of  the shop and what fun to watch the insects who seem relieved to actually have living flowers to thrive on.
WEDDINGS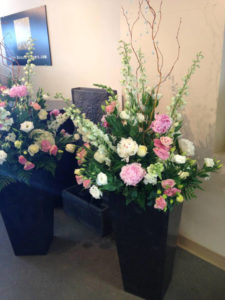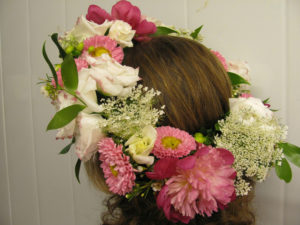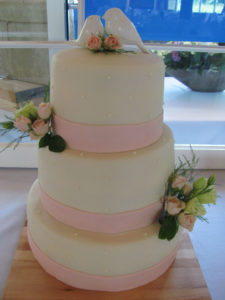 2014 has been a wonderful year for weddings. Our Brides and Grooms have given us so many creative opportunities to create something especially for them.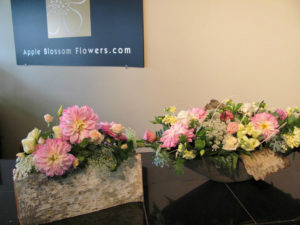 From summer weddings to winter décor, birch bark has become a very popular. It reminds us of our unspoiled wilderness and the urge to bring the outdoors inside.  Combining birch vases and containers with the natural look of Queen Ann's Lace, Stocks, Lizianthus, Roses and Dahlias takes us to an era of romanticism. These containers were part of the décor for a beautiful wedding held at the Ganaraska Conservation Authority this month.  So breath taking!!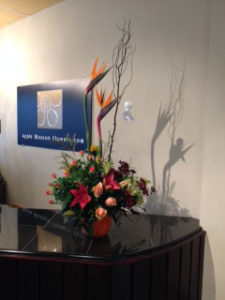 We had fun creating a wonderful Hallowe'en centerpiece complete with black tinted curly willow branches, bird's of paradise, orange spray roses and large apricot roses, "black" chrysanthemums, sunflowers and orange gebera ….. Oh and a lone spooky ghost. I love how our Co-op student captured the picture complete with All Hallow's shadow in the background at our shop Apple Blossom Flowers in Orono.
The heat of the summer affects both you and your flowers; here are three easy tips to protect them from when they leave the store to when they arrive at your house.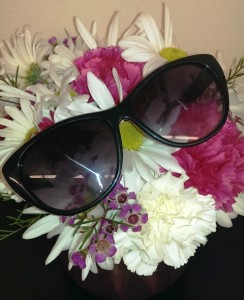 1. Keep Hydrated
Cut bouquets are placed in a water holding foam which should hydrate flowers for 24hrs; but with this heat flowers will want to drink more often. Remove the foam and place your flowers in a vase of cool water, preferably as soon as possible (or within a few hours from when purchased)
 If the flowers are prearranged, top up the container when they arrive at their destination. Continue to fill the container daily.
 2. Keep Cool
If transferring flowers in a vehicle ensure the car is cool and avoid placing the flowers in direct sunlight. Try not to leave the flowers unattended in the car for more then a few minutes, as we all know how quickly the space can heat up!
 3. Continuous Care
So now your flowers have settled into their new home. Place them in a location out of direct sunlight, keep the container topped up changing the water when it becomes murky, and giving them a fresh angled cut every few days with a sharp knife.
Happy Summer!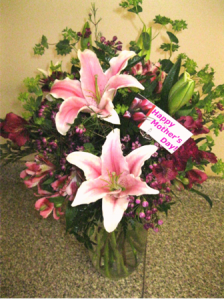 Mothers do so much for us; they give us life, they deal with our emotional adolescence, they guide us with wisdom in our adulthood, and stay by our side when it feels like the world is against us.
But Mother's day is not just for the women who brough us into the world; its for any special person in your life that amplifies  feelings of acceptance, nurturing, support, and love.
This reminded me of a dear customer, a middle aged man wanted a beautiful bouquet for his wife. Naturally I assumed that an anniversary or birthday fell upon the busy weekend of Mother's Day.
After some light conversation I asked, "Whats the occasion?"
I was pleasantly surprised when the man went on to tell me that the flowers were for his wife for Mother's Day. He wanted to thank her for being an amazing, and selfless mother to their two daughters.
That is the true beauty of this day; we are able to show our appreciation for not only mothers, but for grandmothers, step-moms, mother-in-laws, wives, or that individual we call our 'second mom'.
So treat her today! Come in for a georgeous bouquet, arrangement, planter basket or gift to make her feel as special as she is.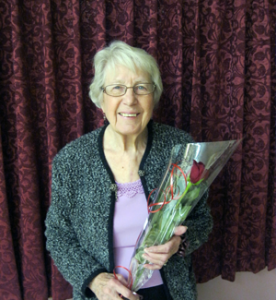 Just when I thought I knew EVERYTHING about growing orchid plants, my Mom and I attended the Orono Horticultural meeting where the guest speaker, Wayne Hingston spoke on choosing and successfully growing orchids.  What a wealth of information on proper care for growing these wonderful plants.  Wayne demonstrated the benefits of using appropriate media, watering and fertilizing techniques and the differences in the various orchid plants.  The bonus for the evening was being with my Mom where she was presented with a red rose, the Orono Horticultural Society's official flower, for being the Orono club's longest standing member in attendance last night.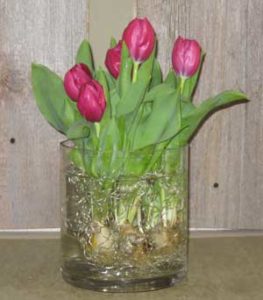 Everyone has had it with winter, we can just tell because all our customers are coming into the shop to buys tulips, iris, freesia and any flower that helps them to think of SPRING!!!  One of our staff had fun arranging full tulips, with their bulbs attached, into a crazy wire form that was placed inside a cylinder vase…What a great centrepiece idea! The tulips will continue to bloom since they are being hydrated, hydroponically, in water.  When the flowers have finished blooming the bulbs can be planted in the garden and will bloom again next year. Talk about recycling at it's best. What a way to bring spring indoors.